Vaughn wants revenge.
Elisa wants her son back.
Neither expected to want each other....
Forbidden

Historical Romance
by Anastasia Black

(Romantica) -- ultra sensual.
This book contains explicit and graphic sex.
Published by Ellora's Cave.

Anastasia Black is the penname that Tracy and Julia Templeton used for romances they have written together. You can find out more about Julia at her website.

CAPA awards Finalist, 2004

Reviews Outline Author's note
Casting the movie
---

Reviews:

I cannot say enough wonderful things about this story. It is, bar none, the best story Ellora's Cave has to offer. The love scenes were steamy, intense, yet heart warming. The struggles of the characters were real, and spending time with them was a real joy. I especially enjoyed the unique way the characters handled the situation, leading to a happily ever after unlike anything I ever expected.

I highly recommend this book, as it takes readers on a most amazing but enjoyable roller coaster ride. This is definitely one I wish I could get in hard cover so I could give it a prominent place on the, "I will keep this book forever and read it over and over shelf.

Danica Favorite-McDonald, In the Library Reviews

---
5 Stars!

An emotional and erotic tale of forbidden love, this is a story that will linger on long after you turn the last page. The characters come to life and bring with them a host of emotions; hate, anger, sympathy, love, and of course lust. This well-written tale has everything a good romance should, a hero with a powerful erotic appeal, a damsel in distress that, luckily for us, cannot resist his charms, and a villain, who is so wicked, even death seems to good for him. Not to mention a wonderful twist in the end.

Colorful descriptions and careful attention to detail gives this book a charm that is not always prevalent in some. The images painted by the author's words will pull you into the story and allow you a glimpse of an era gone by. As a fan of historical romance, the reviewer was delighted by the tale of Vaughn and Elisa. Ms. Black has once again written a story that you will want to read over and over again.

Kathi for Fallen Angels Reviews

---
Forbidden is a sexy, compelling novel. All through the book, I found myself holding my breath afraid of what may happen next and hopeful that Elisa and Vaughn could work things out. I was unsure of how Ms. Black (a pseudonym for two Ellora's Cave authors) could turn the situation around, as the future looks bleak throughout the book. The wonderful end deserves cheers. Forbidden is milder than most Ellora's Cave titles, but the sexual tension is sizzling.

Denise Powers for Sensual Romance

---
5 Stars!

With the eloquent style of writing and the vivid descriptions of England in 1835, I felt as though I had been transported to another time period. The traditions of the era were well studied and incorporated into the story, especially those concerning the lives of women. The writing team of Julia Templeton and Tracy Cooper-Posey, have crafted a tale where there is a deep understanding of human nature. The characters are dramatically portrayed, and I was caught up in their lives from the moment I met each one. Forbidden is an immensely rewarding read with the passionate and emotional love story.

Anastasia Black will have readers experiencing innumerable emotions while they read this deeply moving story. With the engrossing dialogue, I felt every character's thoughts and feelings, whether they were about their hopes, fears or desires. This story about ambition and retribution was woven seamlessly together, and the touching ending is heartwarming. With the sexual tension being off the scale in this highly sensual tale, Vaughn and Elisa's forbidden thoughts, looks and touches are erotic yet sincere. Readers will be swept up into this stunning historical story, and Forbidden will not soon be forgotten.

Amelia Richard, eCataRomance Reviews

---
5 Stars!

The first in the series of tales, Anastasia Black burns the pages with her words. Anastasia ignites the passion waiting to explode between the characters quickly turning it from a luscious appetizer to the main dish and back again. What's amazing is the blatant seduction that takes the better part of the book to complete. Elisa and Vaughn find themselves in what could be considered very public places acting out their ravenous desires numerous times. Of course, because of the setting, the finale cannot be completed for fear of discovery leaving both Elisa and Vaughn wanting for more. A huge letdown that will drive many readers crazy. Scorching!

Brenda Ramsbacher, Scribe's World

---
4.5 Stars

This is my first experience reading one of Anastasia Black's stories and does she ever have me hooked. I found Vaughn and Eliza's journey of exploring their FORBIDDEN love to be a very gripping, heart-warming tale that had my emotions on edge as I waited to turn the next page to see what happened to them next. Kudos to Ms. Black for bringing to life such a wonderful romance. I for one will be anxiously waiting to see what great tale she has in store for us in the future.

Briana Burress for Romance Junkies

---
Anastasia Black's Forbidden is truly a wonderful and very passionate love story! With her exquisite descriptions of time and place you are immediately drawn into a mystery that surrounds so many lives! Vaughn Wardell is coming home to claim what is his and finds himself twisted in the holds of fate and "powerful secrets" that lead him into all that is forbidden to him! I enjoyed the heated passion that builds so beautifully between Vaughn and Elisa! The challenges they faced had my emotions so intertwined within their challenges, I could hardly wait to finish the story!

I give this book a HOT "Devilish Dot Thumbs Up!"

---
I just had the ultimate in sublime pleasures. I got to proofread Forbidden! I'm STILL happy dancing over this one.

Everyone, you MUST run out and buy this one! It is a historical tale, set in late Regency England about a woman who will do anything to find someone who has been lost to her. Her life gets a great deal more complicated when her fiancé's son comes to visit. Anger and hatred swirl around the father and son, with the dear woman being caught in the middle.

Anastasia has a beautifully elegant writing style, the story is stunning and the sex? Well the sex is both hot and sweet at the same time! I can't stop talking about this book and neither will you!

She had me in tears by the end of the book, MULTIPLE times! And I don't cry over romances! Well...let me correct that. I do now!

Briana Lambert, reader.
---
I was in the mood for a really good read tonight, and OMG, Anastasia's Forbidden is fabulous! It kept me turning e-pages (the dh was mad because I wouldn't turn off the light and go to bed), and I kept reading until the power died on my laptop. Forbidden had me tearing up towards the end, not once, but twice. I decided to actually take some time off to relax and finish reading -- it just kept calling to me!!!! It has one of those endings where you say YES!!!! And damn but the sex was hot!

I highly recommend this novel--the hero, Vaughn, is to die for, the heroine is deliciously sensual and the man she's supposed to marry, Vaughn's stepfather--I want to kill him. The bastard.

What a great read, Anastasia. Write more!!!

Cheyenne McCray, Ellora's Cave author.

Back to Top

---
Outline:

Elisa's determined to have her son back at any cost. Even if it means marrying a vicious stoat of a man like Rufus Wardell. But her plans, and her life, are turned upside down by the sudden reappearance of Rufus' son, Vaughn.

Lured by the contrast her sweet beauty makes with the rumors of her wanton past, Vaughn embarks on a seduction as scorching as it is daring. What he finds is not at all what he sought: Elisa is an innocent, but with a sensuality so raw, that he cannot resist her.

It doesn't matter to him that their passion is Forbidden...

Back to Top
---
Author's note:

Forbidden fell into my lap, making it one of those delightful things that happen when you least expect it. It began several years ago.

I met Julia Templeton on the internet via a critique-finding service. I had decided to give the whole critiquing thing away -- I'd had very little luck finding someone who suited me, but just hadn't got around to withdrawing my name. Julie approached me and we decided to give the critiquing process a trial run. Julie's strengths propped up my weaknesses and vice versa, so although the formal once-a-week thing quickly fell in a heap, we have continued to stay in contact and critique each other's work whenever the need arose. Julie, I discovered, also liked to attend Romantic Times conventions.

I attend the annual Romantic Times reader conventions as often as I can afford them, which isn't anywhere as often as I would prefer. However, I've managed to get to them for several years, and Julie has also managed to be there the years I've gone. This is a good thing as Julie lives several thousand miles away from me, and meeting someone in person helps iron out misperceptions of character, and puts a face to the name. Julie has never let me forget that I had assumed she was a brunette. I was shocked to find a tall, slender blonde waiting for me in the foyer of the Toronto Sheraton Centre the first time we met.

A couple of years after we met Julie said "we should co-write a book. You're good at the sexy stuff and I can do the romance...." As my one and only effort at co-writing up until then (with the man who I would end up marrying a year later) was a dog's dinner, I shuddered, and politely prevaricated as I didn't want to offend Julie without appearing to have given it some thought. But Julie is one of the most persistent people I've ever met, and got her way. Thankfully. Forbidden was tough work -- there are no guides out there for hammering out the process of co-writing. But the book is one of the better ones I've written, and by deduction, I must conclude that Julie's efforts are what made the difference.

-- Tracy.

Back to Top
---
Casting the Movie...

I often get asked who I would cast in the movie of my book, if it should ever come to pass, so just for fun:

Movie producer's pitch:

Pride & Prejudice meets The Postman Always Rings Twice

or

The Graduate melds with The Age of Innocence.

Casting call:


Elisa: Kelly Preston.


Vaughn: Jonathan Rhys-Meyers, from Ireland.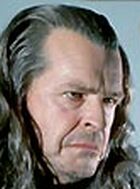 Rufus: John Noble -- "Denethor" in Lord of the Rings -- The Return of the King.


Natasha: Jennifer Love Hewitt.

Back to Top

Lucifer's Lover
"Devilishly entertaining! Wickedly wonderful! Almost too hot to pick up, but too good to put down."
Victoria Dark, Author of Dangerous to Love
Silent Knight
"As dramatic, exhilarating and enjoyable a story as you'll ever find. Absolutely outstanding!
Sara Williams, Author of The Don Juan Con
Black Heart
$6.49
The eagerly awaited sequel to Red Leopard. "I was hooked from the first chapter and read well into the night."
Tara for Euro-Reviews

Dangerous Beauty
Anastasia Black's sequel to Forbidden. "I absolutely loved this book."
Teri for Fallen Angels Reviews
Forbbiden
I cannot say enough wonderful things about this story. It is, bar none, the best story Ellora's Cave has to offer.
Danica Favorite-McDonald, In the Library Reviews
Red Leopard

"...a fabulous read ...it combines a political thriller with an erotic, sensual read that builds and builds.

Astrid Kinn for Romance Reviews Today
Thief in the Night
$2.99
With twists and turns that I didn't see coming, Thief in the Night kept me turning the pages, eager to see what would happen next.
Jolie for Romance Junkies

Solstice Surrender
This is the must read story of the year. The way this author uses her words to draw you into her story is like a work of art.
Jill for Fallen Angels Reviews